About This File
Based on this request thread, this mod replaces the Jedi captive placeables used in the final confrontation with Darth Malak aboard the Star Forge. In the vanilla version of the game, these are all identical copies of the same male body using the PMHC04 ("Mullet Man") head. New male and female versions of this placeable have been made, utilising a variety of heads from all three human races, and Twi'leks. All eight captives in the level are now unique and distinct from one another.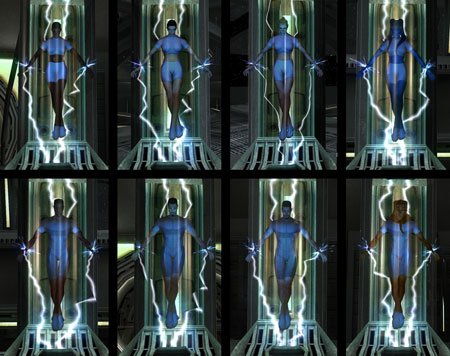 Additionally, the flavour pop-up text for when you interact with the captives has been altered to change the male pronouns into neutral ones, so they work regardless of the subject's gender.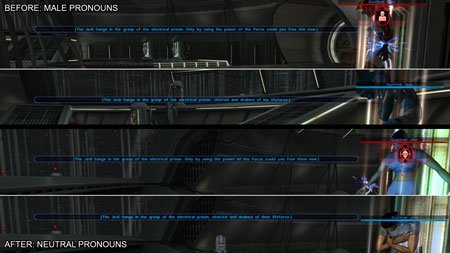 For those that wish it, an optional extra is included that adds these new Jedi as background NPCs to the Enclave on Dantooine.

Known Issues:
In order for the sparring circle portion of the optional extra to take effect, you must use a save prior to leaving Taris. The courtyard portion will only take effect for saves prior to being allowed to exit the Academy. These additions are purely cosmetic, so their absence will have no material affect on the primary purpose of the mod.
The core content of the mod will only work with a save prior to entering the final room on the Star Forge, but I assume most people aren't still installing mods that late in proceedings.

Compatibility:
The core content of the mod should be compatible with most other mods, as the changes are restricted to the second-last module in the game (STA_M45AD).
The optional content makes changes to the Dantooine Enclave's landing pad (DANM13) and courtyard (DANM14AA) modules. If you are using any mod that overwrites those modules (like Kainzorus Prime's NPC Overhaul Mod), make sure you install that mod first. This mod will patch its changes into pre-existing module files, so should be installed last.

Acknowledgements:
Thanks to Kexikus for providing code for the NPC OnHeartbeat scripts.
Thanks to jc2 for the suggestion on how to fix the sparring circle combatant health bars.
Thanks to JCarter426 for suggesting the NotReorienting creature flag.
Thanks to bead-v for KOTORMax and MDLEdit, and ndix UR for MDLOps 2K18 Edition, all of which were required at various points to get this to work.
Thanks to ndix UR for TGA2TPC.

1