About This File
This mod changes the models for the robes you receive on the Star Forge (Darth Revan's robes for dark side or Star Forge robes for light side) to a modified version with the cape and belts seen on the cutscene version, but without the raised hood and mask.
Alternative models with different arrangements of cape/belts/folded hood are available in the mod's OPTIONAL folder. Once you have finished installing the mod, you may copy and paste the MDL/MDXs from relevant folder to the Override folder, overwriting when prompted.
This mod relies on Sithspecter's Revan's Flowing Cape and Belt Fix mod for the animations. You can download that mod from here:
http://deadlystream.com/forum/files/file/709-revans-flowing-cape-and-belt-fix/
Extract n_darthrevan.mdl and n_darthrevan.mdx to your Override folder (you don't need to install the rest of that mod's files, but it is fine to do so). If you do not have this mod then you will not have any animations for the cloak or belts.
How to Obtain:
The mod retains the vanilla route to obtaining the robes, namely accessing the fabrication computer on Deck 2 of the Star Forge. However, in order to allow people to get the robes early, I have added a new fabricator on Dantooine. It is located inside the Aratech Mercantile room next to the Ebon Hawk's landing pad at the Jedi Enclave: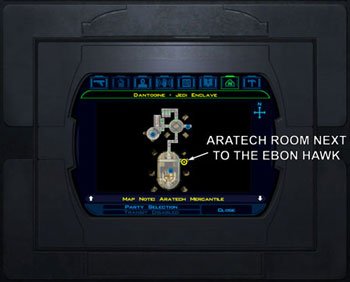 In order to use this component of the mod, you must run the installer a second time and choose the option Dantooine fabricator from the drop-down list.
Notes:
This mod is not compatible with any other mod that changes/replaces the scripts for the computer on the Star Forge that grants you the robes, k_psta_replicat4 and k_psta_replicat5.
The male version is a straight replacement for the PMBJ model, so it will not be compatible with any other mod that replaces/modifies that model, or changes the values for that column in appearance.2da. Because of the way animations work, the female version must be set up as a disguise, so it uses its own independent models and appearance.2da rows and is unaffected by changes to the PFBJ model or appearance.2da values. Note, however, that this means it is not compatible with custom female head models.
The Darth Revan robes use the vanilla PMBJ01 texture, and is compatible with texture replacements from other mods. The vanilla texture for the Star Forge robes, PMBJ02, has no provision for the cape or belts, so I have provided a very basic replacement with those sections coloured. I suggest that you replace this with a better quality texture from another mod. I recommend ZM_StarForgeA08 from ZimmMaster's Revan's Jedi Robes mod. Download that mod here:
http://deadlystream.com/forum/files/file/466-revans-jedi-robes/
Extract Zimm's texture from his mod's tslpatchdata folder, rename it to PMBJ02.tga, and then put it in your Override folder, overwriting when prompted. Make sure you do this after installing the current mod! Additionally, grab the TXI from the OPTIONAL folder and place that in the Override folder as well.
Known Issues:
There will be some clipping during certain animations. Some of this is related to the animations, some of it the meshes. If you spot something particularly egregious, then let me know in the comments and I may be able to address it if it is model-related.
Currently there are no limitations on the Dantooine generator. You can fabricate either set of robes regardless of alignment, and you can make as many copies as you like. I may change this in future.
If you are using the K1 Community Patch, the K1 Restoration mod, or another mod that has added danm13.mod to your Modules folder, you will get a warning from TSLPatcher that this file already exists and was skipped. This is intended behaviour and not an error.
Acknowledgements:
Thanks to Sithspecter for the n_darthrevan flowing robes animations, without which this mod would not be possible.
Many thanks to Fair Strides and bead-v for looking over my scripts, checking for errors and streamlining syntax.
Thanks to DarthTyren for his tutorial on camera placement (although I had to source the quaternion conversion elsewhere).
Thanks to Salk for informing me of a missing ini config for one of the UTI files.
---
What's New in Version
1.2.1
See changelog
Released
Split out the Dantooine fabricator component into an optional secondary install.
Tweaked the setup of the Dantooine fabricator to make the item storage non-interactive when empty.
Slightly repositioned the Dantooine fabricator forcecage to minimise visible wall clipping.
Changed installer setup to pre-compiled scripts for better non-Windows compatibility.
Removed the optional Dantooine scripts for third-party mod compatibility reasons.
Added missing GFF list entry for one of the robe UTIs (thanks to Salk for informing me).