Submitter
Submitted: Mar 19 2013 03:30 PM
Last Updated: Jul 01 2014 11:01 AM
File Size: 111.29MB
Views: 40991
Downloads: 4,255
Approved by:

Sith Holocron

Approved on: 28 June 2014 - 11:19 AM
TSLRCM Compatible: Yes
Previous Versions
Download K2TSLR - The Sith Lords Remastered WIP Alpha 1-1
11 Votes
TSL
Textures
HD
Remastered
high resolution
30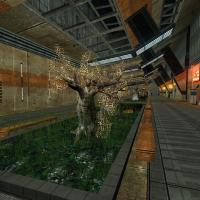 FYI: To discuss this mod and to post bug reports, please use this forum WIP thread, thanks.
This is a teaser release of what will be a much larger mod to replace all the textures of Knights of the Old Republic: The Sith Lords. This initial release focuses on Telos as a WIP teaser.

You will either have to start from the start again and work your way up to Telos to see all the textures changed, or, use an old save game to replay the areas once more.

You have a number of folders here to install, some are optional.




FOLDER "TELOS_TEX"



These are all the current environment textures that have been made available for Telos:
Telos Citadel Station,

Restoration Zone and

Secret Base.
FYI: some are not only for Telos in that some of the textures are from other sets, such as Dantooine.

To install the files just copy into your override folder. FYI: you may wish to backup your override folder first
.




FOLDER "HK_TEX"



These are the HK series -- 47, 50 and 51 -- of droid textures.
FYI: there are background droids in the HK facility on Telos that I have not updated the look of yet.

Again, copy to your override folder.




FOLDER "Items_UTI"
These have been removed for the a1-1 update due to a report problem with them; the below text is there if the earlier version of the mod is being used:
USAGE
Pretty simple, my texture and model edits along with new creations, are mine to redistribute and modify. If you want to use any of my stuff, you need to get my permission to do so, even if it is a modification of an existing texture or model from the game or of someone else's -- in that case, you will need to get their permission too.
If I find that my work has been used without my permission within another mod, depending upon what it is and the extent of it, I will have the site admins remove it along with pursuing other actions available to me via the site.
What's New in Version WIP Alpha 1-1 (See full changelog)
Ravager Sith Fighter tex fix
New Telos Station signage
New Dantooine grass FX tex
Telos Restoration Zone console tex replaced
Updated HK series textures
A number of Telos textures updated, eg window tex
Screenshots
Other files you may be interested in ..
16 user(s) are online (in the past 15 minutes)
4 members, 11 guests, 1 anonymous users
K2TSLR - The Sith Lords Remastered