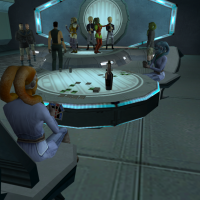 File Name: JC's Minor Fixes for K2
File Submitter: JCarter426
File Submitted: 04 Mar 2018
File Category: Mods
TSLRCM Compatible: Yes
This is a collection of various things that I found annoying enough to alter. It started with that crazy window on Nar Shaddaa, by the landing pad, that would mysteriously render anything that was behind it invisible. It turned out to be as simple as a missing TXI. But it was at this point that I decided to start collecting little things like that into a single mod, to be released to the general public when it became more substantial.
Due to the nature of this mod, I haven't bothered to make a proper installer with the TSL Patcher. Just install whatever you want to install. Don't install what you don't want to install.
Some of these fixes are included in TSLRCM, while others are not. Either way, it's compatible. Other mods may not be compatible; contact me if you have any questions.
Click here to download this file
And a note to those of you familiar with this mod: yeah, I had to reupload it. I apologize for any inconvenience. Thanks to Sith Holocron for dealing with my repeated late-night breaking of the upload system. But we finally got it back online again, including the v1.3 update.
And it's a significant update. I reorganized everything, grouping all the mod files into four sub-categories: Straight Fixes, Resolution Fixes, Aesthetic Improvements, and Things What Bother Me Fixes. I go into more detail in the readme, but they're essentially divided into different degrees of fixiness - actual problems that are fixed, improvements using content that was already in the game files, and various improvements that required new content made by me (one group sticking as close to the game as possible, the other for when the game bothered me).
To reiterate what I said in the readme regarding permissions...
If anybody wants to include any of the Straight Fixes or Resolution Fixes in another mod you may. You have my permission now, so you don't need to ask. That was sort of always my policy with TSLRCM but I'm making it my official policy for everybody now. Just mention me in your credits and we're cool. These are just fixes for the game, so I don't mind if those fixes are included in another mod.
For the rest of the files (i.e. Aesthetic Improvements and Things What Bug Me Fixes), please contact me. I'll consider requests on a case by case basis.