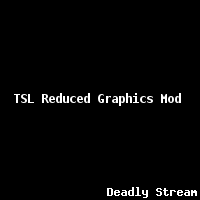 File Name: TSL Reduced Graphics Mod
File Submitter: Marauder
File Submitted: 22 Sep 2016
File Category: Mods
TSLRCM Compatible
: Yes
This mod reduces the amount of video effects that are used to reduce overall lag in the game, should help a little if you're having performance problems.
It mostly reduces dynamic lights, shadow casting lights and other small details but on the low setting all effects are disabled for max performance.
If you need more performance you could also use Shem's Realistic Visual Effects mod or Siberian Wolf's No speed blur mod with this one. Other than that, tweakguides has some good tips you should look at.
There's likely to be a couple of slight changes later on so suggestions are welcome.
As usual feel free to use it however you like, please throw a mention my way if you do.
Click here to download this file