Submitter
Submitted: Nov 30 2016 06:47 PM
Last Updated: Nov 30 2016 06:47 PM
File Size: 6.29MB
Views: 6591
Downloads: 564
Approved by:

milestails

Approved on: 30 November 2016 - 07:34 PM
TSLRCM Compatible: Yes
Download TSL Mission Vao Deluxe 1.0
4 Votes
mission
3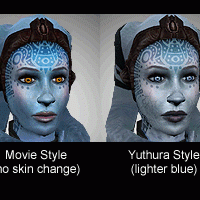 **************************************
Knights of the Old Republic - The Sith Lords
**************************************
TITLE: TSL Mission Vao Deluxe
AUTHOR: Effix
CONTACT: PM me on the forums or find me on Steam
*************
INSTALLATION
*************
Run the file "TSLPatcher - Install TSL Mission Vao Deluxe.exe".
If you are running the Steam version + TSLRCM then you have to point the Patcher to where Steam stores TSLRCM.
************
DESCRIPTION
************
Adds a playable character based on Mission Vao from KotOR 1.
There's:
-custom underwear (a bit of a mix of the outfits of the Twin Suns Twi'leks).
-custom basic clothing based on Mission's Survival Jacket from K1
-optional darkside transition alternatives, not installed by the patcher.
See the folder "Darkside Alternatives" and if needed howto.txt in that folder. You can also find an overview picture there.
*****
BUGS
*****
None known.
*************
UNINSTALLING
*************
1. Remove the following files from your Override folder:
P_MissionBA01.tga
P_MissionBAD01.tga
P_MissionBB01.tga
P_MissionBL01.tga
P_MissionXH.tga
P_MissionXHD1.tga
P_MissionXHD2.tga
po_pMissionX.tga
po_pMissionXD1.tga
po_pMissionXD2.tga
2. If you haven't installed any head mods after this mod you can get the following files from the mod's backup folder and put them back in your Override folder:
appearance.2da
heads.2da
portraits.2da
Doing this when you did add another head mod would result in the later head(s) no longer being available in the game, yet the associated files would still be in the Override folder.
*******************
DISTRIBUTION NOTES
*******************
You may NOT: Use the material from this mod in your own mod without giving me credit, implying it was your creation.
You might: Use the material from this mod in your own mods if you simply ask me.
********
Thanks to
********
Stoffe and Fred Tetra for the needed tools and tutorials
The people at the Filefront forums (R.I.P.) for the feedback
-------------------
THIS MODIFICATION IS NOT MADE, DISTRIBUTED, OR SUPPORTED BY BIOWARE, OBSIDIAN, OR LUCASARTS ENTERTAINMENT COMPANY LLC. ELEMENTS TM & © LUCASARTS ENTERTAINMENT COMPANY LLC AND/OR ITS LICENSORS.
Screenshots
Other files you may be interested in ..
12 user(s) are online (in the past 15 minutes)
1 members, 9 guests, 0 anonymous users
mkg728, Bing (1), Google (1)
TSL Mission Vao Deluxe