Submitter
Submitted: Apr 12 2014 04:52 AM
Last Updated: Apr 12 2014 04:52 AM
File Size: 2.77MB
Views: 8283
Downloads: 710
Approved by:

Sith Holocron

Approved on: 12 April 2014 - 05:15 AM
TSLRCM Compatible: Yes
Download TSL Player Character Height Adjustment
1 Votes
2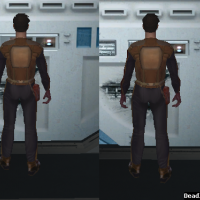 Name: TSL Player Character Height Adjustment
=====================================
Author: L0ki194
================
Description:
=============
This mod is exactly the same as my K1 Player Character Height Adjustment mod (Link to that mod:
http://deadlystream....ght-adjustment/
), except for TSL. Huge thanks to Kainzorus Prime for letting me know that the Large, Medium, and Small body types were still in the TSL files. Turns out they were just mish-mashed around in the models section on Kotor Tool.
Legal:
======
This mod is not supported by BioWare, Obsidian, or LucasArts. Do not contact them for mod support.
Enjoy!
Other files you may be interested in ..
18 user(s) are online (in the past 15 minutes)
1 members, 16 guests, 0 anonymous users
Bing (1), talynthia5280
TSL Player Character Height Adjustment