Submitter
Submitted: Feb 02 2013 05:33 PM
Last Updated: Feb 02 2013 05:33 PM
File Size: 3.2MB
Views: 8137
Downloads: 331
Approved by:

Sith Holocron

Approved on: 28 February 2013 - 10:12 PM
TSLRCM Compatible: Yes
Download Improved Disciple (Mirialan Mical) 1.0
4 Votes
3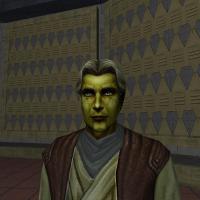 My Modified Disciple mod, i would recommend a new game due to the class change but i wouldn't say it would be mandatory.
Enjoy!
From the Readme:
Knights of the Old Republic: The Sith Lords Companion modification.

===

Improved Disciple

By: Xavier1985

===

Descrition:

Most people tend to just bench Disciple, he is TSL's Juhani it very much seems.
So i decided to make him more "useful" and playable. Originally Mical started off as a soldier class then changed to a jedi consular,
this is one of the key reasons as to his "benching", it is a horrible combo, so i decided to change his starting class to scoundrel so when he necomes a consular,
he, in theory, will be better for you as a companion. i also re-skin him to resemble a Mirialan, he has dark side transitions and portraits to match.

===
Installation:
===

Run the "improved Disciple.exe" and when prompted, click on the SWotOR2 installation folder, NOT the ovveride folder!


===
Uninstallation:
===

Remove the following files from the Override file:

P_DiscipleB.tga

P_DiscipleH.tga

P_DiscipleHD1.tga

P_DiscipleHD2.tga

pmbamm01.tga

po_pDisciple.tga

po_pDiscipled1.tga

po_pDiscipled2.tga

p_disciple.utc

===
Permissions
===

You May not modify the files with out my express permission, you may upload the file to another site ASLONG as credit is given.

Regards,

Xavier1985

reskinned face to resemble Mirialan race
Darksde Transitions
Portraits
Feats
Starting class is now Scoundrel (Soldier was orignal starting class)
Screenshots
Other files you may be interested in ..
28 user(s) are online (in the past 15 minutes)
0 members, 26 guests, 1 anonymous users
Bing (1)
Improved Disciple (Mirialan Mical)