Submitter
Submitted: Oct 09 2012 02:50 AM
Last Updated: Oct 13 2012 03:03 AM
File Size: 541.1KB
Views: 4829
Downloads: 1,126
Approved by:

ZM90

Approved on: 13 October 2012 - 03:27 AM
TSLRCM Compatible: Yes
Download Extended Rebuilt Enclave Scene(Unofficial TSLRCM PATCH) 2.0
2 Votes
0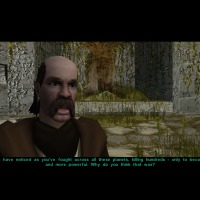 ========================================================
A KNIGHTS OF THE OLD REPUBLIC II: (THE SITH LORDS) MODIFICATION
Extended Rebuilt Enclave Scene(Unofficial TSLRCM PATCH)
========================================================

Author: Darth Hayze
PM: Contact me at the Deadly Stream Forums or on MODDB
Name: Extended Rebuilt Enclave Scene(Unofficial TSLRCM PATCH)

Filename: extencalve.rar
Original Release Date: 10/8/12(as kreia alone patch)
Update Release: 10/x/12


1. Description:
----------
This is an extended version of the Rebuilt Enclave sequence. I went through the dialogs as modified by TSLRCM and compared them to the original versions, and made changes and restored additional dialog based on developer notes, etc...
The following scenes have been modified:


1. "Did you not go to join him?"
Brianna approaches Kreia before the dialog with the Masters starts, and Kreia has additional lines.

2. "It is not as it was."
The sequence with the Jedi Masters has been extended with additional dialog from the masters themselves, and when reading the minds of your party, all but Hanharr are now represented. Depending on whether you learned how to read the characters minds, or spoke to Atton about playing Pazaak, lines may change.

3. "You have failed me, completly and utterly."
Kreia's confrontation with the Exile now includes several minutes of new dialog. Some of the additional dialog is dependent on your influence level with Kreia, i.e the scene will have differant lines at the end if you have high, low, or 'neutral' influence with Kreia.

Also there is now a shot of Nihilus' ship before the scene with him and Tobin


Additonal Dialogs

4. This is a modification to Kreia's global dialog. Totally optional.
This file restores a few lines to Kreia's dialog about small kindnesses and cruelities.


2. Install:
----------
(It is highly recommended that you update your game to version 2.10 (the 1.0b update) before installing this mod.) TSLRCM 1.8.1 Required

This is a patch for TSLRCM, it will not work otherwise. So have that installed.
To install, extract the Main Patch folder to anywhere you like, as long as it is not the SWKotOR2 folder. Simply run 'install.exe' from within the "Main Patch" folder.

If you want the additonal Kreia lesson dialog, make sure you back up the kreia.dlg in your ovveride, before copying mine over form optional.



3. Uninstall:
----------

There has been a backup made of the modified files, within a folder titled 'backup' in the 'Main Patch" folder. Simply copy the 650dan.mod into your Modules folder, and you will have reverted to TSLRCM 1.8.1

Optional: Replace kreia.dlg in your Override with the backup you made.


4. Bugs:
----------
I tested this several times to make sure nothing weird happened. Let me know if you encounter something you think you shouldn't.


6. Distribution Notes:
----------
This mod may not be modified or distributed without the explicit permission of the author, which is me.

7. Thanks:
----------
Thanks go the entire TSLRCM team, your work has been outstanding.


THIS MODIFICATION IS PROVIDED AS-IS AND IS NOT SUPPORTED BY BIOWARE/OBSIDIAN ENTERTAINMENT OR LUCASARTS OR ANY LICENSERS/SPONSORS OF THE MENTIONED COMPANIES. USE OF THIS FILE IS AT YOUR OWN RISK AND THE ABOVE MENTIONED COMPANIES OR THE AUTHOR IS NOT RESPONSIBLE FOR ANY DAMAGE CAUSED TO YOUR COMPUTER FOR THE USAGE OF THIS FILE.
Restored Dialogue with the Masters
Restored reading Atton/Baodur/Canderous' mind
Extended Kreia/Brianna "confrontation"
Fixed messed up camera angles.
Screenshots
Other files you may be interested in ..
15 user(s) are online (in the past 15 minutes)
0 members, 14 guests, 0 anonymous users
Bing (1)
Extended Rebuilt Enclave Scene(Unofficial TSLRCM PATCH)