Submitter
Submitted: Mar 21 2018 08:17 PM
Last Updated: Mar 21 2018 08:17 PM
File Size: 1.17MB
Views: 823
Downloads: 54
Approved by:

milestails

Approved on: 25 March 2018 - 02:41 PM
TSLRCM Compatible: Yes
Download Female Exile Head ("Canon")
4 Votes
exile
reskin
female
head
canon
portrait
1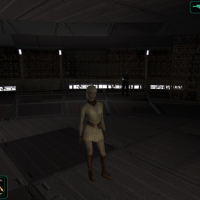 This is just a simple PC portrait mod, it replaces PFHC07 with a new head (which is a modified version of PFHC05). The new head is supposed to look like http://vignette3.wik...=20091003183103, which is what Wookiepedia has as the Legends "Canon" Exile.
I did not make this mod—I requested it in the appropriate thread and a few other users put it together:
- Schizo did the main bulk of the modeling work
- Effix changed the hair color
- DarthParametric fixed the model with Taina's Replacer
- I actually did do one thing: I replaced the party portrait with that hand-drawn pic
To install: unzip the files and copy them to your override folder
To uninstall: take 'em out again
Screenshots
Other files you may be interested in ..
19 user(s) are online (in the past 15 minutes)
3 members, 15 guests, 0 anonymous users
Female Exile Head ("Canon")