Submitter
Submitted: May 27 2017 01:03 PM
Last Updated: Jun 05 2017 12:52 PM
File Size: 251.98KB
Views: 2049
Downloads: 53
Approved by:

Canderis

Approved on: 28 May 2017 - 05:33 PM
TSLRCM Compatible: Yes
Previous Versions
Download Effixian's Yoda Disguise 3
yoda
disguise
0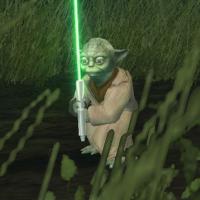 ********************************************
Knights of the Old Republic - The Sith Lords
********************************************
TITLE: Effixian's Yoda Disguise
AUTHOR: Effix(ian)
CONTACT: PM me on the forums or find me on Steam
*************
INSTALLATION
*************
Put the contents of the zip file into your Override folder.
************
DESCRIPTION
************
This is a silly little mod that adds a disguise that makes you look like Yoda. You can acquire it from the corpse in the morgue on Paragus or use cheatcode giveitem a_robe_47.
There will likely be some missing animations for certain actions.
Not compatible with other mods that add items through that same corpse.
The stats are the same as Master Robes.
P.S. That's actually a short lightsaber in the screenshot. Have fun
******************
KNOWN ISSUE
******************
STOTOCALATO on Steam reported that removing the disguise did not give the normal appearance back.
DarthParametric informed me that using a disguise while you're wearing another disguise will cause problems with getting your normal appearance back. The spacesuit you find on Peragus is another disguise, so remove the Yoda disguise before using that. Hopefully that approach will prevent issues.

*************
UNINSTALLING
*************
Remove from the Override folder:
a_robe_47.uti
g_tresgencorp004.utp
give_robe_47.ncs
give_robe_47.nss
ia_MstrRobe_047.tga
N_Yoda01.tga
*********
THANKS TO
*********
Kexikus for scripting help
DarthParametric for teaching me about disguise issues
Fred Tetra for KotOR Tool
-------------------
THIS MODIFICATION IS NOT MADE, DISTRIBUTED, OR SUPPORTED BY BIOWARE, OBSIDIAN, OR LUCASARTS ENTERTAINMENT COMPANY LLC. ELEMENTS TM & © LUCASARTS ENTERTAINMENT COMPANY LLC AND/OR ITS LICENSORS.
Added a known issue to the description
Other files you may be interested in ..
Effixian's Yoda Disguise