Submitter
Submitted: Apr 16 2017 12:30 AM
Last Updated: Apr 18 2017 04:45 AM
File Size: 7.85MB
Views: 5445
Downloads: 810
Approved by:

Fair Strides

Approved on: 16 April 2017 - 12:35 AM
K1R Compatible: Yes
Previous Versions
Download Crystal Cave redux and upgradeable crystal 1.2
8 Votes
Crystal
Cave
Upgradeable
Merchant
6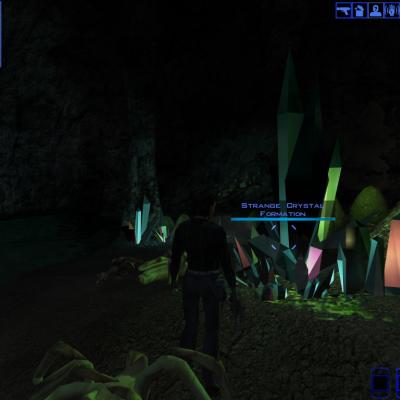 Crystal cave overhaul and upgradeable crystal 1.1
­­
Author: djh269
Release Date: 16.04.2017
Installation:
Simply click on the TSLPatcher.exe and click install and sit back and watch the TSLPatcher do its magic
Uninstallation:
N/A
Description:
- The crystal cave to spawns more crystals, I have used some scripts that were already present but not used and I've added my own.
- Fixed the other kinrath eggs being unusable, now usable but with no crystals
- There is a new mandalorian body, that provides you with a datapad explaining why him and the blue mandalorian are there.
- I've also added the Hive Queen to the Crystal Cave, a force using powerful Kinrath capable of strong force feats, she's not to be underestimated. I've also added a demolitions backpack to the module to assist in taking her down.
- I have also changed the Firkrann crystal icon as it was the same as the Sapith crystal icon. And I've changed the description of the red crystal.
- I've added 3 new unique NPCs to three different planets.
- I suggest speaking to the Tatooine Twilek after each planet you complete.
- The Tatooine Twilek doubles up as a merchant, he has normal items and "premium" Items which you can unlock by progressing through the game.
- Both twileks have upgraded head textures, courtesy of SpaceAlex's Enhancement mod.
There's a new personalised crystal that can be upgraded as you progress through the game. In order to upgrade the crystals you have to do it in the following order:
Here are the stats of the crystals:
Known Bugs:
This mod shouldn't have bugs but if there is Just PM me on Deadlystream.
Incompatibilities:
Shouldn't be incompatible with anything but if there is just PM me on Deadlystream
Permissions:
- The only thing you can't use is the info.rtf or the tslpatcher. Anything else is fine.
- For usage of Spacealex textures consult his release page on Lucasforums.
Thanks:
Spacealex for his brilliant NPC Enhancement mod and for making it a modders resource.
JC2 for his excellent patience in providing me with dialog and conditional script tutorials!!
N-DReW25 for his assistance and usage of his info.rtf file.
Fairstrides for his unquestionable patience whilst helping me out in the past.
bead-v for his module editting assistance.
Kexikus for his tslpatcher advice in making my mod more compatible.
Bioware for such an amazing game.
Fred Tetra for Kotor Tool and everyone who downloads the mod.
Holowan labs for the endless pit of information for Kotor modding.
Legal:
THIS MODIFICATION IS NOT SUPPORTED BY BIOWARE/OBSIDIAN ENTERTAINMENT, LUCASARTS, DISNEY OR ANY LICENSERS/SPONSORS OF THE MENTIONED COMPANIES. USE OF THIS FILE IS AT YOUR OWN RISK AND THE ABOVE MENTIONED COMPANIES OR THE AUTHOR IS NOT RESPONSIBLE FOR ANY DAMAGE CAUSED TO YOUR COMPUTER FOR THE USAGE OF THIS FILE
1.1 -
- Fixed the crystal UTP to have the proper
description
- Added Kinrath Hive Queen to the Crystal Cave
- Added a demolitions backpack to the Crystal Cave for assistance.
1.2 -
- Updated the datapad icon, made a few changes to the changes.ini file
Screenshots
Other files you may be interested in ..
15 user(s) are online (in the past 15 minutes)
3 members, 11 guests, 0 anonymous users
Vodmorqele, Bing (1), mrquimper, axanik
Crystal Cave redux and upgradeable crystal