Submitter
Submitted: Mar 24 2017 08:27 AM
Last Updated: Aug 16 2017 03:59 AM
File Size: 558.19KB
Views: 3544
Downloads: 377
Approved by:

Fair Strides

Approved on: 24 March 2017 - 04:32 PM
K1R Compatible: Yes
Previous Versions
Download Kill Marlena 3.0
4 Votes
ToddHellid
K1
HusbandKiller
Justice
Darkside
JC2
Marlena
FATALITY
4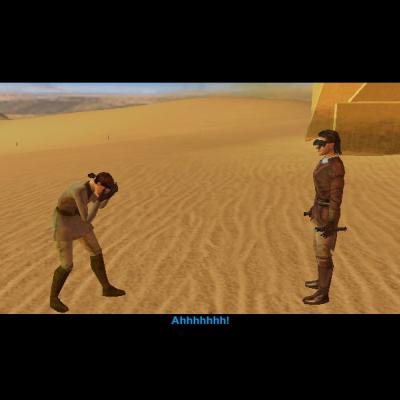 On Tatooine, Marlena decides it is O.K. to murder her husband.
While the PC is either oblivious to this, or acknowledges it, yet still does nothing about it.
This is wrong. Being ignorant or merely not understanding a psychotic woman is understandable, but for those who chose the dialogue option "it sounds like you are going to kill him!"
Then, it becomes apparently obvious that a mod is needed to fix this lame interaction into a character developing moment.
You can either bring justice to the outer rim by killing her, as a Jedi.
Or you can cut her down, because she assumed you to be a low life thug. Or even, simply because she reminds you of your ex-girlfriend who broke your heart and you need compensation from a video game to express the full extent of your "feelings." You poor thing.
Nevertheless, there are 6 total response the PC can have to this situation.
5 Darkside responses leading to death.
3 Lightside responses/outcomes
Recently added a force persuasion option, it'll make you laugh!
Therefore, if you are not sure if you'll go darkside or lightside, you will still benefit from downloading this mod!
Also, you can inform Tanis (her husband) of his wife's condition. Either alive, dead, or gone, etc...
See readme for full disclosure on the mod, including how to get the most out of it.
I hope you enjoy!
Please give any feedback, even negative! I need it to improve.
Credits: Fred Tetra for KT and Stoffe for his tslpatcher
Deadlystream.com for hosting this mod.
Request made by ToddHellid.
1.00 Initial release.
2.00 Added Tanis dialogue options to inform him of his wife's current condition. Also, fixed a few typos and 2 bugs.
2.5 Fixed description to be accurate, added force persuasion option (Dominate mind), changed script to apply death effect, instead of disappearing and spawning a corpse.
2.6 Fixed an issue in the wife.dlg file that would cause the conversation to bug if and only if specific questions were asked in order.
Simply re-install this mod to fix it.
3.0 fixes bug with Tanis not disappearing, adds additional lines, polishes some lines, adds tslpatcher
Screenshots
Other files you may be interested in ..
Kill Marlena