Submitter
Submitted: Mar 20 2017 06:24 AM
Last Updated: Mar 20 2017 07:51 AM
File Size: 14.78MB
Views: 2906
Downloads: 137
Approved by:

Sith Holocron

Approved on: 20 March 2017 - 11:32 AM
K1R Compatible: Yes
Previous Versions
Download Force awakens inspired Bowcasters Overhaul 1.1
3 Votes
Bowcasters
2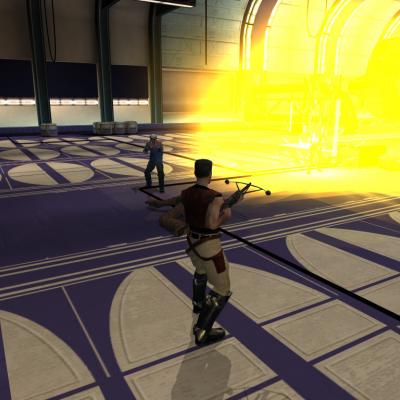 Force awakens inspired Bowcasters Overhaul 1.0
Author: djh269
Release Date: 20.03.2017
Installation:
Simply click on the TSLPatcher.exe and click install and sit back and watch the TSLPatcher do its magic
Uninstallation:
Simply place the files from the backup folder into your override.
Description:
I was inspired to modify bowcasters to have exploding ammo as per the recent Star Wars film.
Known Bugs:
This mod shouldn't have bugs but if there is Just PM me on Deadlystream.
Incompatibilities:
Shouldn't be incompatible with anything but if there is just PM me on Deadlystream
Permissions:
- I allow full usage of this mod in any of your work.
Bioware for such an amazing game.
Fred Tetra for Kotor Tool and everyone who downloads the mod.
Holowan labs for the endless pit of information for Kotor modding.
Legal:
THIS MODIFICATION IS NOT SUPPORTED BY BIOWARE/OBSIDIAN ENTERTAINMENT, LUCASARTS, DISNEY OR ANY LICENSERS/SPONSORS OF THE MENTIONED COMPANIES. USE OF THIS FILE IS AT YOUR OWN RISK AND THE ABOVE MENTIONED COMPANIES OR THE AUTHOR IS NOT RESPONSIBLE FOR ANY DAMAGE CAUSED TO YOUR COMPUTER FOR THE USAGE OF THIS FILE
Removed the default bowcaster having the explosion effect; it would look pretty bad, now only Zaalbar and Chuundar have their bowcasters affected.
Other files you may be interested in ..
15 user(s) are online (in the past 15 minutes)
3 members, 12 guests, 0 anonymous users
Force awakens inspired Bowcasters Overhaul