Submitter
Submitted: Mar 20 2017 02:31 AM
Last Updated: Mar 20 2017 02:31 AM
File Size: 1.13MB
Views: 2664
Downloads: 184
Approved by:

Sith Holocron

Approved on: 20 March 2017 - 02:45 AM
K1R Compatible: Yes
Previous Versions
Download Mandalorian helmet/head and armor icon fix 1.0
7 Votes
Fix
3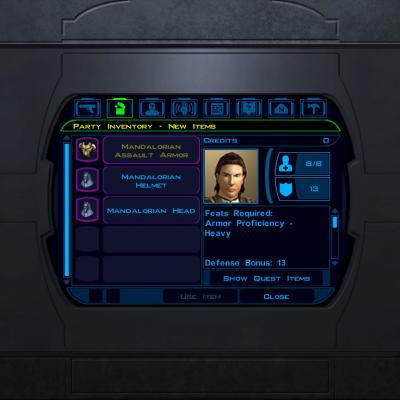 Mandalorian Helmet/head + armor icon redux
Author: djh269
Release Date: 20.03.2017
Description:
This changes the default icons for the Mandalorian Helmet/head + armor you find within the game, all items. I've also tweaked the Mandalorian Assault Armors description, as it stated: "This was the armor of the Mandalorian elite frontline troops, a sight that Republic soldiers were all too familiar with during the war." I've removed the "elite" part, as the disguise was for the standard troopers.
Known Bugs:
This mod shouldn't have bugs, if there is, click on my profile and send me a PM.
Incompatibilities:
This mod shouldn't have incompatibilities, if there is, click on my profile and send me a PM.
Permissions:
You're free to use this in any mod you wish.
Thanks:
Bioware for such an amazing game.
Fred Tetra for Kotor Tool Holowan labs for the endless pit of information for Kotor modding.
Legal:
THIS MODIFICATION IS NOT SUPPORTED BY BIOWARE/OBSIDIAN ENTERTAINMENT, LUCASARTS, DISNEY OR ANY LICENSERS/SPONSORS OF THE MENTIONED COMPANIES. USE OF THIS FILE IS AT YOUR OWN RISK AND THE ABOVE MENTIONED COMPANIES OR THE AUTHOR IS NOT RESPONSIBLE FOR ANY DAMAGE CAUSED TO YOUR COMPUTER FOR THE USAGE OF THIS FILE
Screenshots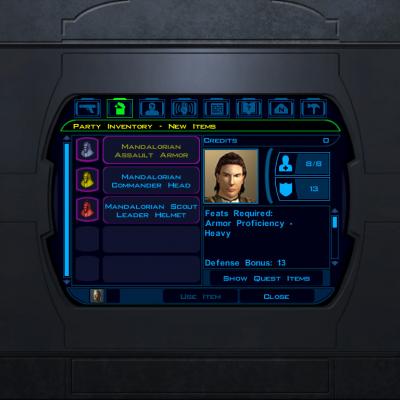 Other files you may be interested in ..
15 user(s) are online (in the past 15 minutes)
3 members, 12 guests, 0 anonymous users
Mandalorian helmet/head and armor icon fix